This flowering compact mounding form shrub has fine textured leaves and has large 1 1/2 inch golden-yellow buttercup like flowers. Blooms all summer, drought tolerant, and said to be deer resistant.
2 to 3ft tall. 2ft wide. Full sun. Moderate water during summer.
SO MANY POSSIBLE LANDSCAPING OPTIONS!
This sensational shrub makes a great compact accent or natural hedge and is chosen for its intense stunning scarlet red fall coloring. Enjoy its attractive rich green leaves spring through summer. Remarkable when used in a mass, border, or at the foreground of larger conifers or evergreen shrubs.
Deciduous, needs full sun or partial shade and regular watering-weekly, more often in extreme heat. Moderate grower, reaches 4 to 6ft tall. 4 to 6ft wide. Exceptional Fall Color with inconspicuous blooms. Use as border, hedge, mass, or firescaping/fire wise.
GET IT WHILE ITS HOT!
This moderate growing juniper is great for a tall privacy screening, windbreak, or using as a focal point in your landscape. Its glowing blue-green foliage is densely branched and its broad pyramid form maintains its natural form well with practically no pruning. Its clipped form makes a bold statement at the entrance of your driveway or on your front porch. Prefers full sun, water occasionally after established; more in extreme heat, and deer resistant.
12ft tall. 8ft wide. Full sun, deer resistant.
LIMITED QUANTITY ON HAND, COLUMNAR JUNIPERS CAN BE HARD TO FIND THIS TIME OF THE YEAR! 
The Honeyrose Honeysuckle is an ornamental shrub with outstanding colors throughout the season. It has upright arching branches that support abundant rosy-red flower clusters with a blue-green foliage backdrop. This fast growing shrub will stand alone, work great as a mass-planting for a hedge or screening a wall or fence. You could almost call this the perfect plant because of all its hardy features. The fragrance of its blooms attracts bees, butterflies, and hummingbirds and will continue into the fall season. Its foliage is aphid resistant and usually deer resistant. Also stands up well to drought, heat, and pollution. This fast growing shrub is low maintenance and said to be hard to kill.
8ft tall. 8ft wide. Hardy, fast growing, low maintenance, very adaptable ornamental shrub.
YOU AND/OR YOUR HONEY WILL LOVE THIS THROUGHOUT THE SEASONS!
Thornless Cockspur Hawthorn
This fast growing, small rounded colorful tree will be a perfect addition to your landscape. The Thornless Cockspur Hawthorn is a beautiful thornless tree with beautiful, single fragrant white blooms, abundant masses of bright red fruit, and silver-gray bark. These fruits provide excellent color for you to enjoy in late summer and early fall along with a dark glossy green foliage which will turn purple-red. The Thornless Cockspur Hawthorn is very disease resistant, rust resistant, drought resistant, and has no major insect or pest problems. It has low water needs, but requires well-drained soil and full sun making it an ideal addition to add color and form to your yard.
12 to 20ft tall. 10 to 15ft wide. Fast growing, rounded to wide-spread form, with fragrant white flowers in May.
COME ON OUT & GET YOUR 6-8ft POTTED HAWTHORN TODAY!
Flowering Pear Trees: Cleveland Select, Korean Sun Pea
&

Trinity
Flowering Tree Slide Show:

1st Set Of Pictures - Korean Sun Pea Pear

2nd Set Of Pictures - Trinity Pear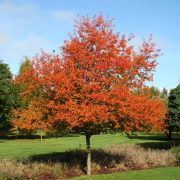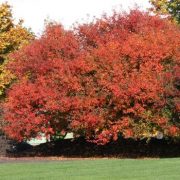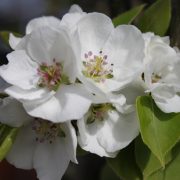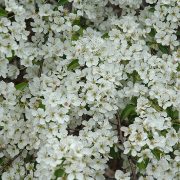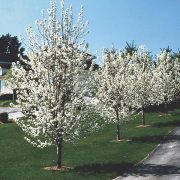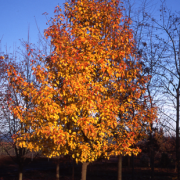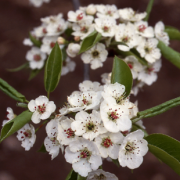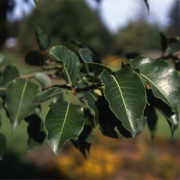 Korean Sun Pea Pear:  This fast growing compact rounded tree is definitely smaller compared to the other varieties. It has white delicate flowers, medium green foliage, and turns red to purple-red in the fall.
15-20ft tall. 15-20ft wide. Very Hardy. Shorter deciduous with outstanding red fall color.
Trinity Pear:  A tightly rounded crown pear tree that has glossy green leaves that turns orange to red in the fall. Profuse single white blooms and fruitless.
30ft tall. 30ft wide.
DO NOT LET THE NAME DECEIVE YOU THESE ARE NOT FRUIT BEARING, BUT THEY ARE FLOWER BEARING!