This sensational shrub makes a great compact accent or natural hedge and is chosen for its intense stunning scarlet red fall coloring. Enjoy its attractive rich green leaves spring through summer. Remarkable when used in a mass, border, or at the foreground of larger conifers or evergreen shrubs.
Deciduous, needs full sun or partial shade and regular watering-weekly, more often in extreme heat. Moderate grower, reaches 4 to 6ft tall. 4 to 6ft wide. Exceptional Fall Color with inconspicuous blooms. Use as border, hedge, mass, or firescaping/fire wise.
GET IT WHILE ITS HOT!
Thornless Cockspur Hawthorn
This fast growing, small rounded colorful tree will be a perfect addition to your landscape. The Thornless Cockspur Hawthorn is a beautiful thornless tree with beautiful, single fragrant white blooms, abundant masses of bright red fruit, and silver-gray bark. These fruits provide excellent color for you to enjoy in late summer and early fall along with a dark glossy green foliage which will turn purple-red. The Thornless Cockspur Hawthorn is very disease resistant, rust resistant, drought resistant, and has no major insect or pest problems. It has low water needs, but requires well-drained soil and full sun making it an ideal addition to add color and form to your yard.
12 to 20ft tall. 10 to 15ft wide. Fast growing, rounded to wide-spread form, with fragrant white flowers in May.
COME ON OUT & GET YOUR 6-8ft POTTED HAWTHORN TODAY!
This hardy semi-dwarf fruit tree is one of the best pollinators out of all the plums. It produces showy white flowers in spring followed by tangy red fruit with firm yellow flesh in later summer. A heavy producer of rich, spicy flavored large pointed fruit. This deciduous trees has more or less of a rounded form with forest green foliage throughout the season with pointy leaves turning yellow in fall. It grows at a medium rate, and under ideal conditions can be expected to live for 40 years of more. Will require occasional maintenance and upkeep, and is best pruned in later winter once the threat of extreme cold has passed.
15ft tall. 15ft wide. Hardy fruit tree produces heavy crop in mid August into September. Fresh Eating, Baking, Preserves & Juice Making.
STUNNING CLUSTERS OF FRAGRANT WHITE FLOWERS IN THE SPRING WITH YUMMY FRUIT IN LATE SUMMER!
Unique twisted stems that zigzag, with tightly clustered white bell-shaped flowers with pink centers. Green leaves turn to a rich maroon color in fall. This deciduous slow-growing flowering bush prefers moderate water and full sun leaving you with a dramatic winter look.
8ft tall. 8ft wide. Unique deciduous flowering bush with tight cluster of white flowers with pink centers.
ADD A LITTLE TWIST TO YOUR LIFE!
This durable, adaptable small shrub produces soft pink, double blossoms before the foliage emerges. White bell-shaped blooms in the late spring with rich maroon fall color.
6ft tall. 6ft wide. Deciduous bush prefers full sun to part shade.
RING IN THE NEW GROWING SEASON WITH THIS SUPER STUNNING SHRUB!
This hardy tree will survive in almost any soil condition. They require full sun and grow best when given lots of water. Pussy Willow's have deep spreading root systems which are good for holding the soil on a hillside and erosion control. Try to avoid planting near water lines, sewer lines, or septic tank fields. They provide excellent spring color with fuzzy gray catkins on pendulous branches, and have an umbrella shaped weeping form. Although they can be allowed to grow unpruned, this tree will benefit from regular pruning shortly after blooming. Do not prune until after the flowers have faded.
8-10ft tall. 6-8ft wide. Umbrella shaped weeping form. Excellent color, fuzzy gray catkins, pendulous branches. Full Sun.
EXCELLENT USE OF CATKINS FOR INDOOR DISPLAY. CUT BRANCHES WITH BUDS, PLACE THEM IN A TALL VASE IN BRIGHT SUNLIGHT & ENJOY INDOOR BLOOMS!
Flowering Pear Trees: Cleveland Select, Korean Sun Pea
&

Trinity
Flowering Tree Slide Show:

1st Set Of Pictures - Cleveland Select Pear

2nd Set Of Pictures - Korean Sun Pea Pear

3rd Set Of Pictures - Trinity Pear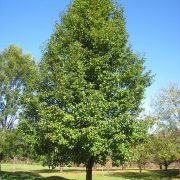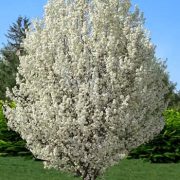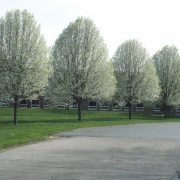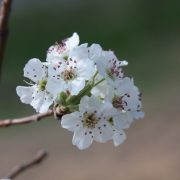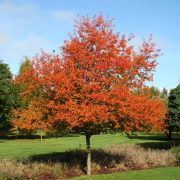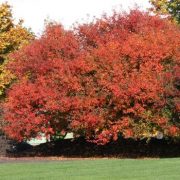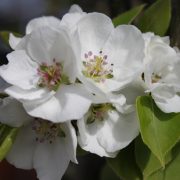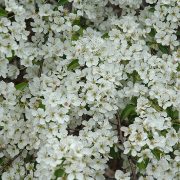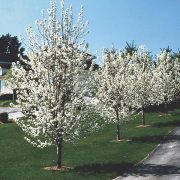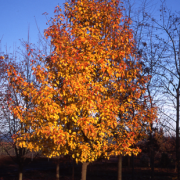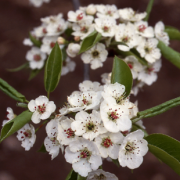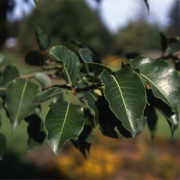 Cleveland Select Pear:  A stunning upright pyramidal shaped deciduous tree with gleaming white flowers in early spring. Glossy green foliage changes to purplish red-orange in the fall. This fast growing tree makes a great accent tree on its own or works wonderfully as a row.
25-30ft tall. 15-20ft wide. Narrower upright with abundant white flowers. Good street tree & Good fireblight resistance.
Korean Sun Pea Pear:  This fast growing compact rounded tree is definitely smaller compared to the other varieties. It has white delicate flowers, medium green foliage, and turns red to purple-red in the fall.
15-20ft tall. 15-20ft wide. Very Hardy. Shorter deciduous with outstanding red fall color.
Trinity Pear:  A tightly rounded crown pear tree that has glossy green leaves that turns orange to red in the fall. Profuse single white blooms and fruitless.
30ft tall. 30ft wide.
DO NOT LET THE NAME DECEIVE YOU THESE ARE NOT FRUIT BEARING, BUT THEY ARE FLOWER BEARING!