Happy New Year!
The office is open:
Monday – Friday, 

8 am – 4 pm
Closed

 Saturday and Sunday
Sod and Nursery are closed for now.  
We look to mid-March for those to re-open.  Weather dependent. 
There are positions open for employment in the office and outside in the sod/farm division.  Office job can be part time or full time.  Outside job is full time.  Mail resume to: 2019 SW Park Lane Culver, OR  97734 or email to: mcturf@cbbmail.com.  Due to COVID, please do not come to the office at this time.  Send in resume first.  This is a drug and alcohol free company that participates in a random testing program.  Jobs are seasonal and business is open six days a week, March to October.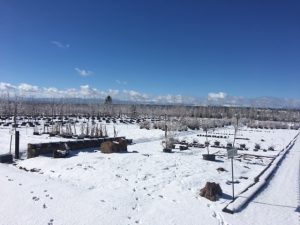 We have been growing sod for Central Oregon homes, businesses, and municipalities since 1979. As a family owned and operated business, McPheeters Turf has developed a reputation for providing excellent service and the highest quality turf grasses.
Not only does McPheeters Turf and Nursery produce and sell sod, we also have a large nursery. The nursery can provide your landscaping with a large variety and quantity of trees, shrubs, and perennials selected for and acclimated to our Central Oregon climate. These choice trees and shrubs will assure you ease and success as you take them to your yard.
Let us also help you by providing instructions on how to water more efficiently, fertilize most effectively, and care for your landscaping so you can grow beautiful and excellent performing grass, trees, and shrubs that will raise the value of your property, provide protection, and beautify your home or business.
Our grass is always greener and our service always shines.